News

/

Organization of the World Cup is great
Organization of the World Cup is great
- Francois Purvis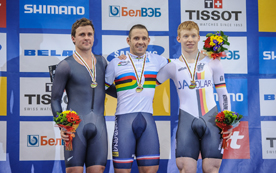 "Super, it is organized at the highest level and the track is very beautiful. Many people watch the competitions and they support cyclists. It helps to achieve high results. During the races my wife and the president of my club were sitting on the stands supporting me. A lot of people have already congratulated me" said the victor of the time trial.
When the winner was asked, what is the most memorable in his visit to Minsk, he said that without any doubt it is his gold medal. "I've become the World Champion for the first time today. I've been waiting for it for 11 years. All this time I've been working hard to achieve it. I am completely shocked in a good way" said the champion.
Francois Purvis hopes that in Minsk he will add the medals in team sprint and keirin to his collection.