TRANSPORT
Central reservation office: Accommodation, Transport, Visa support
To receive the information about transport support please contact the official marketing and travel agency "Dream marketing".
Mob.phone: +375 296 21 20 11.
Fax: +375 172 28 55 90.
E-mail: bogdanovitch@minsk2013.by, maria.bogdanovitch@gmail.com.
VIDEO REVIEW: Hotels
Minsk Hotel ****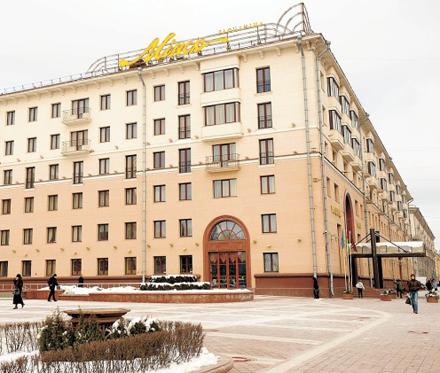 Location: 11 Nezavisimosty ave., Minsk, 220000, Republic of Belarus
Distance to Minsk-Arena – approx. 7,3 km
Distance to the Sport Palace – approx. 1,6 km
Distance to Dinamo stadium – approx. 0,6 km
Distance to the Tennis Palace – approx. 5,3 km
Distance to the National Airport Minsk-2 – approx. 45 km
Distance to the Railway Terminal – approx. 1,3 km
Hotel Minsk is situated in the very center of business and cultural life of the city. The admirable view of the city,Saint Simon and Alena Cathedral and Nezavisimosti Square can be observed from the windows of the Hotel. There are various public offices, the Railway and Bus Terminals, Central Post-Office, Dinamo Stadium, Trade Centre Stolitsa and historical area Trinity Suburb nearby. The hotel offers 252 rooms, which are elegantly furnished and decorated with paintings. There is a climate control system, a smoke detector, direct inter-city and international calls, satellite TV, a mini-bar, Internet, a safe, tea & coffee making facilities in each room. Rooms: 93 Single rooms, 80 Double rooms, 32 Twin rooms, 8 Double superior, 4 Connective rooms, 12 Luxe rooms, 23 Luxe superior, 2 Apartments, 1 VIP Apartment, 1 Honeymoon room.
ROOM FACILITIES
Electronic lock
Climate control system
Fire-detector
Satellite TV
Direct long-distance and international
Telephone calls
Internet connection possibility
Mini-bar, mini-safe
Hair-dryer
Terry dressing gowns/slippers (upon Request)
Make-up mirror
Cot granting (upon request)

HOTEL FACILITIES
Facilities: fitness-club, sauna, Turkish bath, Jacuzzi room, business centre (computers, x-coping), 2 rooms for negotiations, conference hall, Internet, express delivery. Restaurant Minsk (110 seats) is in the ground floor of the Hotel, the main entrance from Nezavisimosti avenue. It has a fine banquet room for 40 persons. Wonderful dishes and pleasant classical music will accomplish a perfect evening in the Restaurant Minsk. Restaurant The Seventh Heaven (138 seats), featuring renovated interior, is on the top floor of the Hotel. The admirable view of the city, Saint Simon and Alena Cathedral and Nezavisimosti Square which can be observed from the windows of this famed restaurant wich has welcomed guests since year 1969. It is one of the most magnetic restaurants in the City centre. Banquet Hall is a genuine pearl of the Minsk Hotel. The elegant decor and cozy atmosphere are perfect for business meetings, private events, official dinners, and cocktails. Lobby-bar offers its guests a wide range of hot and cold drinks, spirits, confectionery and beer. Hot food can be served at the lobby-bar of the Restaurant Minsk until 22:00.
ROOMS
Single, Twin, Double, Double superior, Luxe, Luxe superior, Connective (Luxe + Single), Apartment, VIP suite.
Check-in time is 14.00. Check-out time is 12.00 a.m.